Our Thinking
Commitment to Excellence – Principles, People and Process – That is our Thinking!
PRINCIPLES – Simple, either you have them or you don't.  Our values are the ones we all grew up with: Treat people as you want to be treated and add value to your relationships every day.  We won't compromise our quality or reputation for size.  We are committed to excellence with the credo of exceeding expectations.  You can't be all things to all people: We are made up of senior consultants with the strongest IT experience in the industry.  We are recognized for leading the industry, innovating business, and mentoring teams.  We are the professionals you count on - not a body shop.
PEOPLE – Limos, acronyms and contracts don't make projects successful, PEOPLE do.  DSI cherishes long term relationships with its consultants, clients and partners. Trust, respect and proven experience is the recipe for our success and yours.  DSI built its best in class team over a period of 35 years.  Our Consultants are selectively hired based on their extraordinary technical skills and an average of 20+ years successful industry experience. Based on DSI's principles and processes, our consultants typically stay for a lifetime.  That means when you need us again, it is highly likely the Consultant(s) who understands your environment, business and requires little to no ramp up time is still here.
PROCESS – Waveseeking is the R&D process that DSI has thrived on over so many iterations of technology.  The IT industry is in a constant state of flux: platforms, technologies and methodologies are constantly introduced, updated, and deprecated.  DSI's Waveseeking process engages our team of consultants in the process of identifying, testing, benchmarking and implementing technologies that prove to be long standing and valuable to our clients.  Sharing our early adapter knowledge with our clients is key to our relationships and your successful IT planning.  Understanding how to properly implement, manage, and integrate technologies is vital for success; knowing when to migrate from one solution to another is what sets the industry leaders ahead of the pack.  The DSI Waveseeeking process makes the selection, implementation, and migration of technology a predicable discipline rather than random guesswork.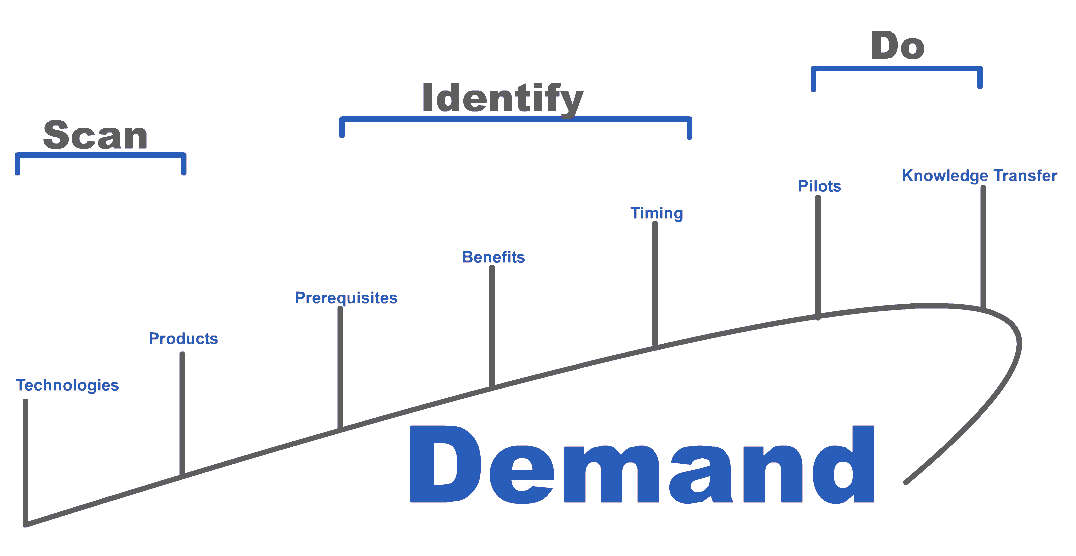 Over our 35 years, we have seen a multitude of technologies introduced.  Some of these technologies become platforms for our clients to innovate their businesses and increase agility and some of these technologies never make it to the mainstream.   Investing in technology is expensive and time consuming.  DSI's Waveseeking process takes the risk out of technology guesswork and investment.
For over 3 decades and dozens of iterations in technology, DSI has led the industry in identifying and implementing technologies that positively impact our clients competitive posture.
SCAN – DSI looks for trends in technologies, products, and methodologies at their conception.  Often this first look is 24 to 36 months before these technologies are ready for client adoption.  During this scanning phase, DSI evaluates and weights the chances of the technology becoming a ripple or a new wave.
IDENTIFY – Technologies that have the potential to impact to IT are assigned to a subject matter expert (SME).  The SME identifies prerequisites required, the potential benefits and the estimated timing for the technology to become mainstream.  During this phase, DSI looks for competing technologies to determine best in class or potential leap frogging technologies.  Depending on the wave, this is often 18 months or so before general adoption.
DO – The final phase of the Waveseeking process for DSI is perhaps the most import one.  About a year before we expect a technical wave to become widely recognized, DSI evaluates and benchmarks the technology through  our rigorous R&D processes.  This early, real-world assessment of the technology is critical in determining the technology's strengths, deficiencies, and risks.   As your technology partner, DSI shares the results of our R&D experience to ensure you are selecting and implementing the technologies and tools that are the best fit for your business requirements and your technical team.